What are the Costs of Renting?
18 Apr 2022
Compared to buying, renting is probably cheaper. However, there are still certain costs apart from the monthly rent that a tenant must prepare for.
Compared to buying, renting is probably cheaper. However, there are still certain costs apart from the monthly rent that a tenant must prepare for. These costs can be broken down into two main categories: One-off and On-going costs.
Read on as we discuss costs of rental in the UK and explore some of our saving tips.

The Average Rental Costs in the UK
As per the latest reports by Statista, the average rental costs in some areas of the United Kingdom for March 2020 are as follows1: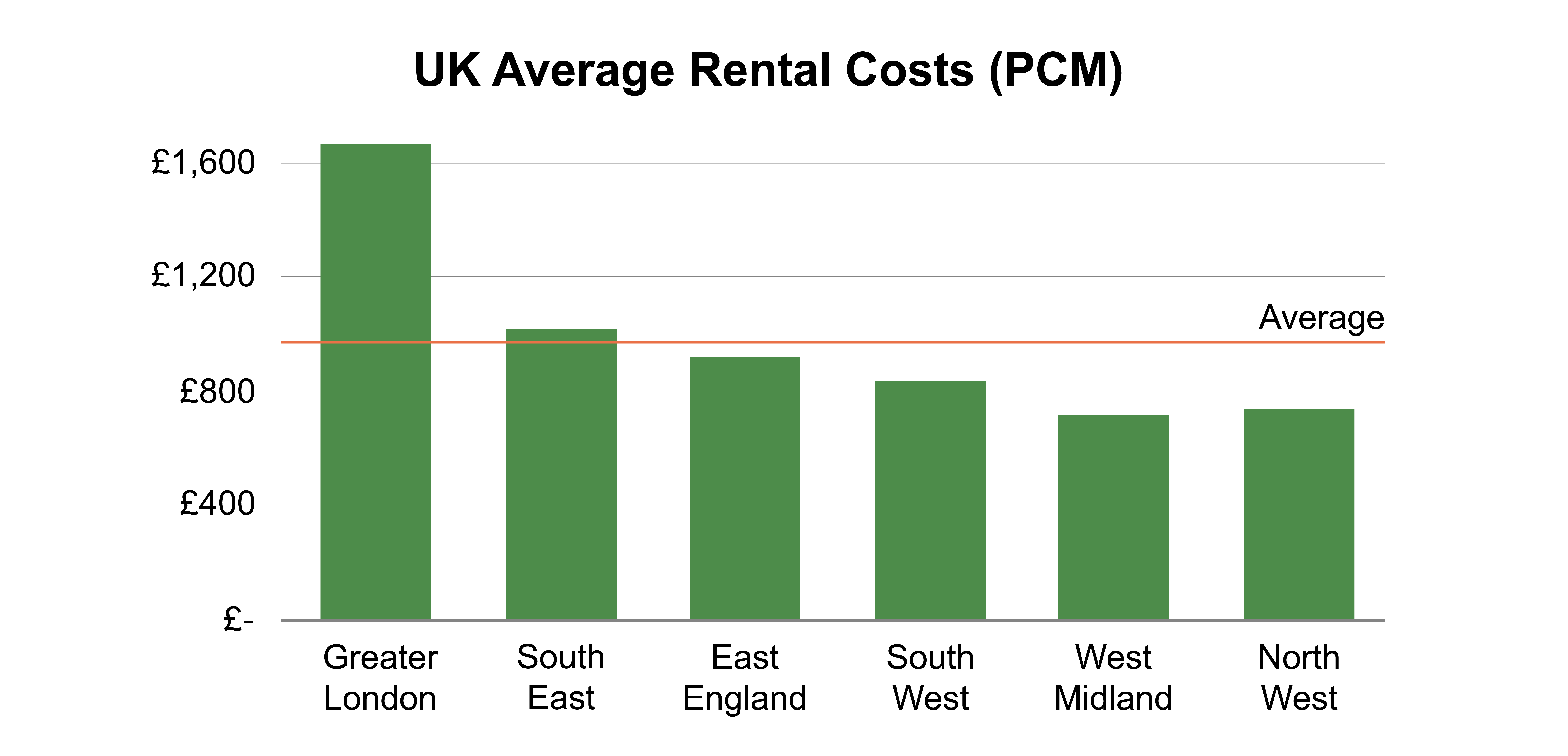 The national rental average was noted to be £959 with Greater London having the highest rental costs in the UK.
Determining One-off Costs for Renters
1. Moving Costs 🚚
Moving costs tend to vary according to the distance of the move. In the case of a local house removal, your moving costs will range as follows for popular UK cities such as London, Birmingham, Manchester, Newcastle and Glasgow:
1-bed property: £300 – £400
2-bed property: £400 – £550
3-bed property: £550 – £750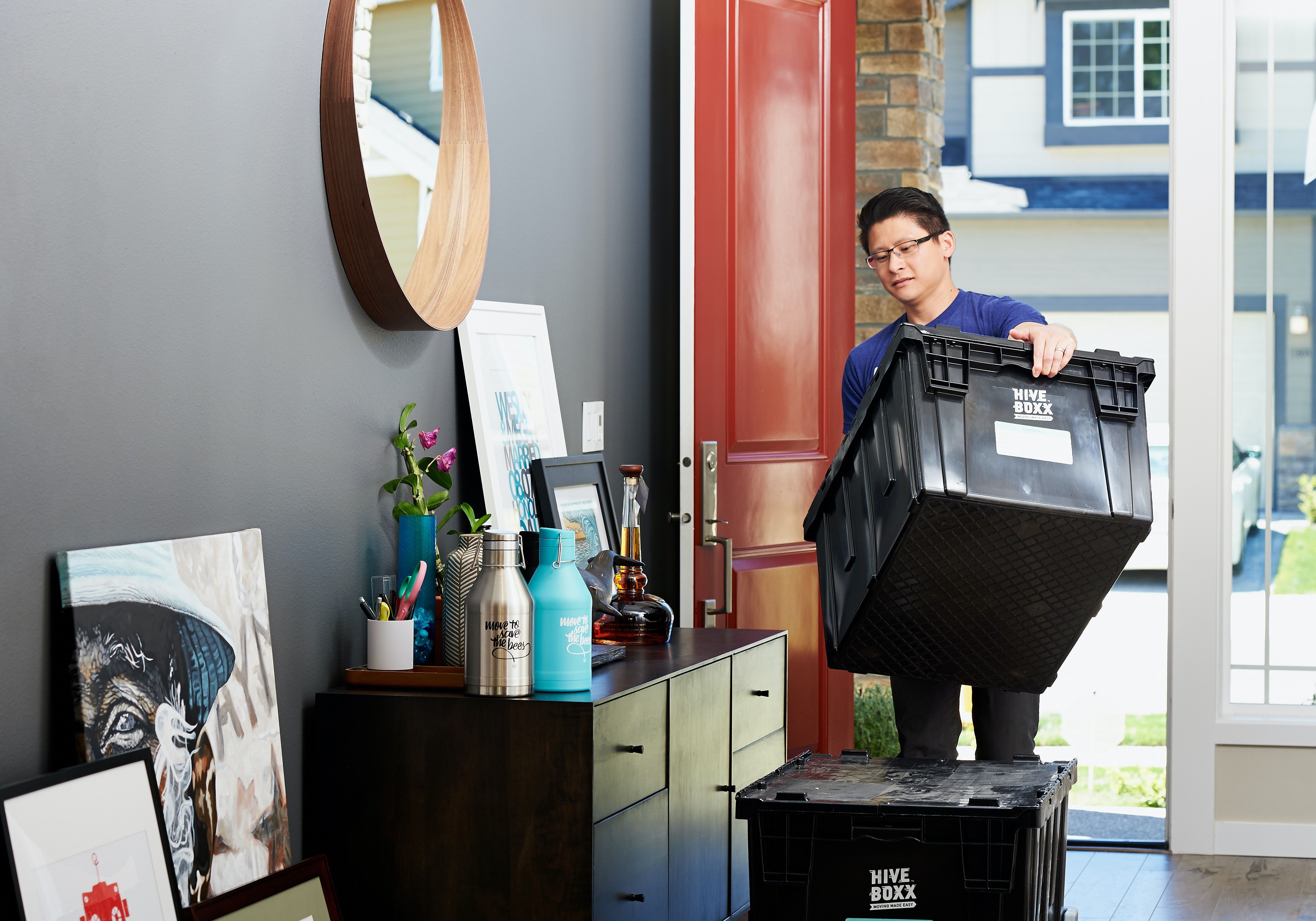 2. The Tenancy Deposit
The tenancy deposit is a sum of money you must provide to your landlord prior to moving into the rental property. It is also known as the security deposit and is used by the landlord to pay for damages you cause to the rental property or if you miss a rental payment.
The amount is capped at 5 to 6 weeks of rent. It is refundable and will be returned to you minus any deductions after you vacate the rental property.
Click here to learn more about how security deposits work.
3. A Holding Deposit
A holding deposit is the amount of money you pay for reserving a rental property. Once you have paid this money, you will need to sign the tenancy agreement within a period of 15 days. The landlord will not be allowed to rent the property to another individual during this time.
Capped at 1-week rent, this money is often deducted from the first-month rent and security deposit you pay.
Your holding deposit may not be returned to you if you:
Choose not to move in
Provide any false or misleading information to the landlord
Fail the Right To Rent check
4. Changes to the Tenancy Agreement
If you need to amend the tenancy agreement such as change of a tenant or term, then the landlord can ask you to pay for these. The cap is usually £50.
5. Replacement of Key 🗝️
These are default charges that you need to pay to the landlord for replacing a key or security device that got lost. It is only applicable if a replacement is required and amounts vary by landlords, but could cost up to £50!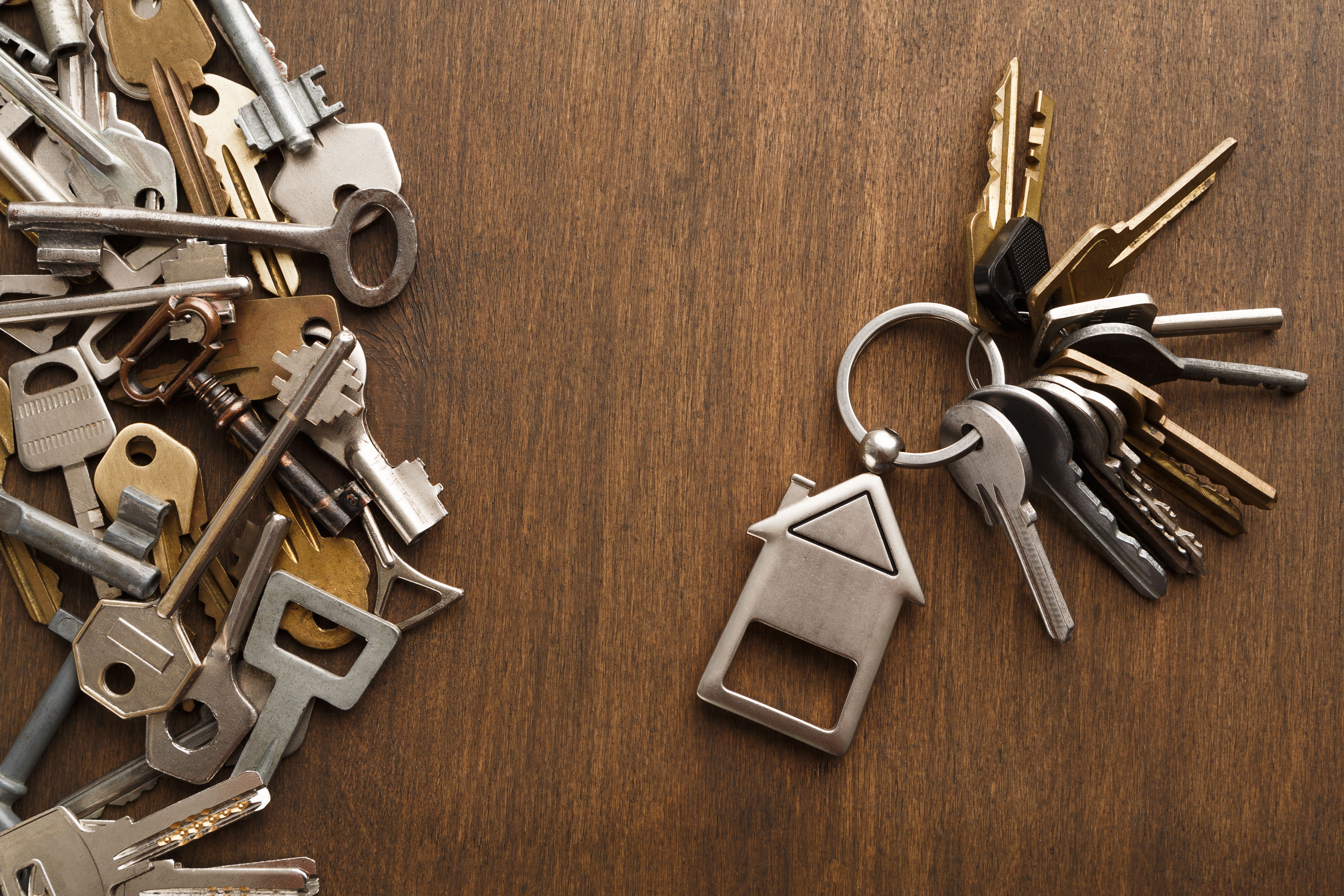 6. Early Termination Fees
These are charged if you end the tenancy earlier than your contractual term. On average, early termination fees are equivalent to the losses incurred by the landlord due to the termination. As per the Tenant Fees Act, the landlord cannot charge more than the amount of money they would have received in rental payments upon the natural culmination of the tenancy2. Therefore, if you are terminating the tenancy a month before the designated date, the early termination fees should not exceed your monthly rental payment.
The Act also encourages landlords to forgo any penalty charges, if the request for early termination appears to be reasonable or if the tenant has not missed any rental payments in the past.
Calculating the Ongoing Costs of Renting
Besides the initial deposits and moving costs, you are likely to incur ongoing costs. These include:
1. Utility Bills 💡
Most tenants are responsible for managing bill payments for utilities such as gas and electricity. In the UK, average utility bills cost up to £1,138 a year. Your monthly costs would be approximately £943. Water is often at landlords' discretion.
2. TV License and Internet 📺
A standard TV license costs £157.50 in the UK. You can pay in monthly installments of £13.304. Typically, a TV license needs to be renewed after a year.
As far as a broadband connection is concerned, these have a monthly cost of £18 and above5. Depending on the service provider you use, you may also need to pay one-off costs of £5 and above for installation.
3. Late Payment on Rent
If you pay your rent 14 days after the due date, then the landlord can charge you interest on the rental payment. In this case, the interest amount will be capped at 3.0% above the base rate defined by the Bank of England, which was 0.10% as at March 2020.
4. Council Tax
This is a type of tax that is charged on a domestic property. You can ask the landlord who is in-charge of paying the council tax before you sign the tenancy agreement. How much you pay will depend on the council tax band for the property. This is determined based on the size, layout, location, character and value of the property as at April 1991 when the valuation system was put in place.
There are 8 different council tax bands in England from A to H. Your council tax can be determined as follows6:
| Council Tax Band | Value range of Property at April 1991 | Estimate Council Tax |
| --- | --- | --- |
| A | Up to £40,000 | £997 |
| B | £40,000 - £52,000 | £1,163 |
| C | £52,000 - £68,000 | £1,329 |
| D | £68,000 - £88,000 | £1,495 |
| E | £88,000 - £120,000 | £1,827 |
| F | £120,000 - £160,000 | £2,160 |
| G | £160,000 - £320,000 | £2,492 |
| H | Over £320,000 | £2,990 |
Most tenants can make a tax payment to the council in the form of monthly instalments.
4 Saving Tips for Ongoing Costs of Renting
If you are worried about incurring high ongoing costs as a renter, then there are plenty of ways to reduce these expenses.
1. Opt for Energy Saving
As mentioned earlier, average gas and electricity bills have an annual cost of £1,138. You can cut down on this cost by using energy-saving appliances, adopt standard energy-saving methods and using auto-switching software like Look After My Bills.
A good energy-saving appliance will utilize 55 percent less energy which can have a significant impact on your electricity bill. As our research suggests, switching to energy-efficient appliances with a rating A++++ can reduce your energy bills by £220 on an annual basis7.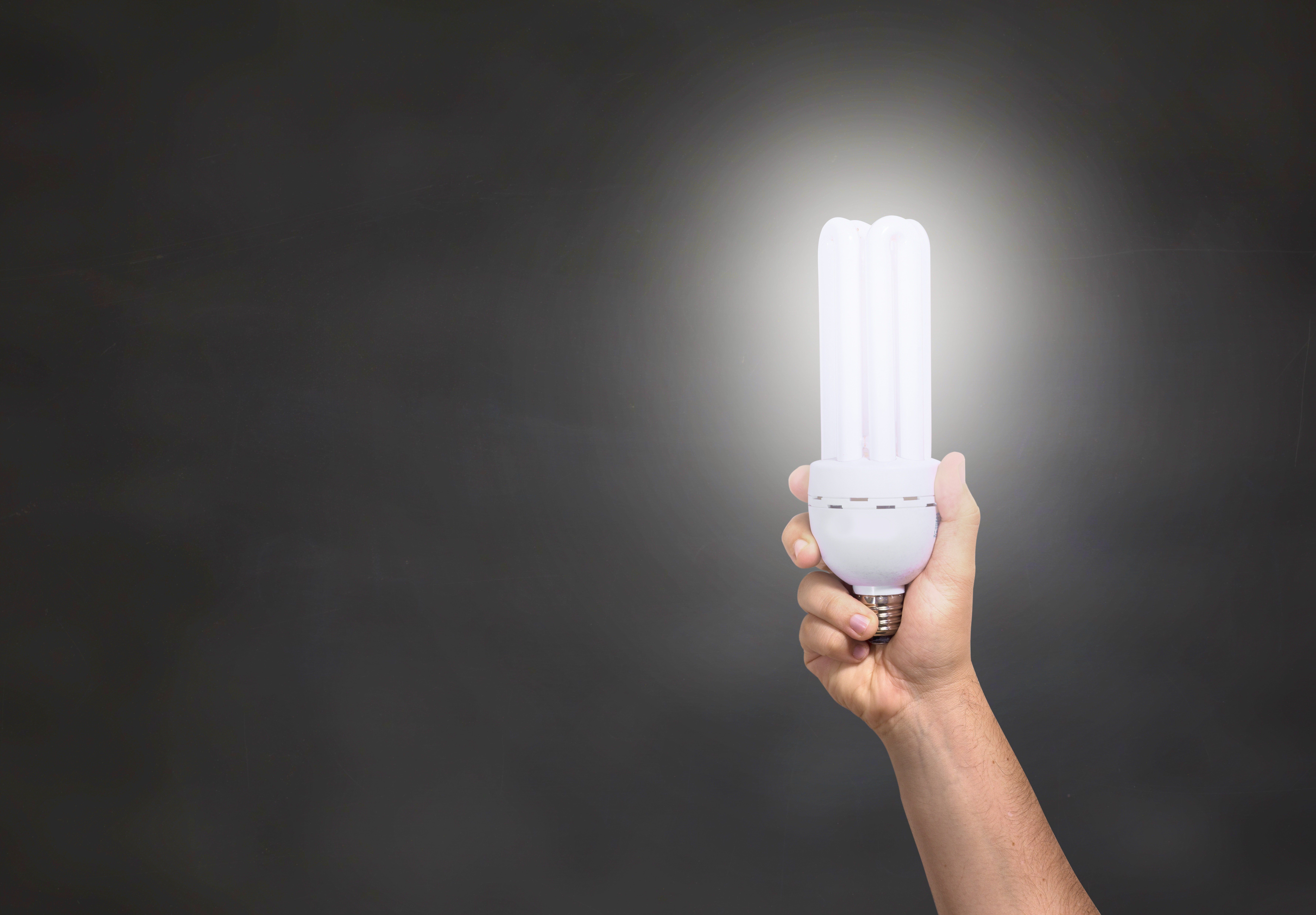 Software like Look After My Bills can also help you save around £253 in a year. The service is free and helps you automatically switch to a cheaper provider to save £50+ per switch8.
2. See If You Are Eligible for a Council Tax Discount
If you are worried about paying council tax, then there are a few ways to reduce this or avoid paying it altogether. For starters, the amount of council tax you owe can be reduced if you are eligible for council tax support. This usually applies to individuals having a low income.
You can also avail of a 25% discount on the tax if you are the only adult living in your home. This is known as a single occupancy discount. It also applies to an individual living in a rental property where everyone else is a full-time student.
Discounts apply if you live with a disabled person or your property has been modified to suit the needs of a disabled individual.
3. Reduced Broadband Charges
To reduce the charges on your broadband connection, we suggest calling your Internet service provider and negotiating a new contract whenever it is due to expire. If you have been a reliable customer in the past, they should be open to providing you with a discount.
4. Sign Up for a Streaming Service
Depending on your personal preferences, you can cut back on ongoing costs such as paying for a TV license by signing up for a streaming service such as Netflix. Standard tariffs for Netflix users in the UK range from £5.99 to £11.99 per month which is cheaper than what you would pay for a standard TV license. Plus, you can a group membership with other people!
Wrapping It Up
On average, the costs of renting comprise of everything from one-time costs such as using a removal company and paying deposits to ongoing costs of living at the property. These include utility bill payment, council tax, late rental payments etc. Some upfront costs can be avoided if you opt for a No Deposit or Zero Deposit Scheme. These help reduce the amount of money you are required to pay as a tenancy deposit. You can also use some of the tips discussed above to reduce your ongoing costs. If you choose to move to a Build to Rent (BTR) property, then you can avoid certain ongoing costs of renting such as utility bill payment, broadband charges and more.
Click to learn more about Build to Rent and its benefits, or to find a BTR development for your next home.
At www.buildtorent.io, we are building a full-scope platform to connect Build To Rent developments and potential tenants. We provide the most updated information and help you find the best properties in minutes, all free of charge.